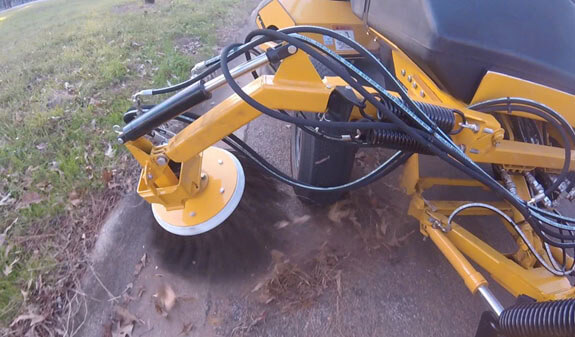 LONGVIEW, TEXAS – January 27, 2022 – LayMor, a leading manufacturer of street sweepers for municipalities and contractors, announces two new options for its four-wheel SweepMaster 450-ST. This heavy-duty model is LayMor's biggest, most powerful street sweeper, equipped to take on large street, asphalt and road construction projects.
Currently available with a Kubota® V3307 Tier 4F, 74-hp engine, the SweepMaster 450-ST can now be equipped with an optional Cummins® engine.
LayMor is also introducing an optional gutter broom for the SweepMaster 450-ST. The gutter broom allows operators to access gutters, curbs, mill corners and other areas beyond the main broom's reach. Operators can maneuver the gutter broom with an easy-to-use joystick located inside the cab.
"We are excited to expand the SM450-ST's capabilities with these new options, adding to an already extensive list of features that take on the toughest jobs," said Jim Morgan, LayMor Director of Sales. "We designed the SM450-ST specifically for municipal and construction markets. As the proven, trusted experts in street sweepers, LayMor continues to make product advancements that help customers in these markets maximize their efficiency."
Scheduled for testing next month, the new SweepMaster 450-ST options were unveiled at the American Rental Association show in October 2021. They were also on display at the Associated Equipment Distributors show in January 2022.
For more about LayMor, visit laymor.com.
About LayMor
Mobile Products, Inc. d/b/a LayMor, a REV Group subsidiary (NYSE: REVG), manufactures street sweepers for municipalities and contractors at its ISO:9001 facility in Longview, Texas. In addition to equipment sales, the company also supports its products with a full parts and service division.
About REV Group, Inc.
REV Group® companies are leading designers and manufacturers of specialty vehicles and related aftermarket parts and services, which serve a diversified customer base, primarily in the United States, through three segments: Fire & Emergency, Commercial, and Recreation. They provide customized vehicle solutions for applications, including essential needs for public services (ambulances, fire apparatus, school buses, and transit buses), commercial infrastructure (terminal trucks and industrial sweepers), and consumer leisure (recreational vehicles). REV Group's diverse portfolio is made up of well-established principal vehicle brands, including many of the most recognizable names within their industry. Several of REV Group's brands pioneered their specialty vehicle product categories and date back more than 50 years. REV Group trades on the NYSE under the symbol REVG. Investors-REVG
Press Contact:
Julie Nuernberg
Director of PR & Social Media
+1.262.389.8620 (mobile)
julie.nuernberg@revgroup.com